We have a one-price policy for sales in India and abroad. The postage is charged at actuals as are the bank charges etc incurred, if any. We also charge € 5 per order towards packing & forwarding. There is no additional charge for payment by credit card or PayPal. The payment gateways are located on secure sites.
We prefer using registered airmail. We recommend Speed Post Express Mail especially if you require quick and or traceable mail service.
Please ask for an invoice by email to facilitate online payment
mj@stampsofindia.com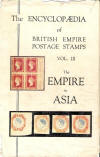 We have many more books than listed on the pages linked below. Please ask for the books you want.
We also stock auction catalogs and periodicals on India and Indian States.

We prefer payment by PayPal. We also accept MASTERCARD, VISA, JCB, Diners Club, Citibank E-cards and AMERICAN EXPRESS credit cards issued anywhere in the world.
Indian buyers can also pay through their Indian net banking accounts of Axis Bank, Bank of Rajasthan, Centurion Bank of Punjab, Citibank, Federal Bank, HDFC Bank, ICICI Bank, IDBI Bank, IndusInd Bank, Kotak Mahindra Bank, Oriental Bank of Commerce, Punjab National Bank, and YES Bank. Also accepted is Itz Cash Card.