To celebrate the attainment of Independence, the Indian Post & Telegraph Department introduced a Special post mark and/or a slogan on 15th August 1947, reading ?JAI HIND?, in bilingual from all major post offices of India.

?JAI HIND? was the first commemorative post mark of Independent India, which was actually a war slogan of Netaji Subhash Chandra Bose, the Supreme Commander of the Indian National Army which was adopted by Free India as National Slogan of the country - Bharat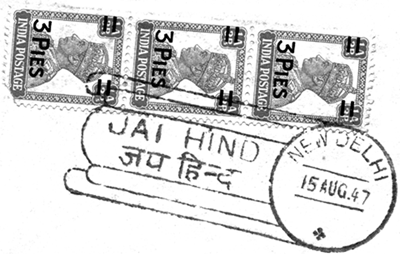 A close scrutiny of this slogan post mark, reveals that the cancellation was produced locally by the post office concerned from a master drawing. The alphabets of the word ?JAI HIND? in English and Hindi, varies from 61mm to 67mm, and the width varies from 11?mm to 15mm.
There is something more in this slogan, which has attracted me. After checking/collecting 100 of this slogan, I have came to a conclusion that this post mark was withdrawn on 31st December 1947. And it was reintroduced from Girdikot P.O./Jodhpur for the first time in June 1948. That is why, this post mark, found after 31st December 1947, are mainly (say more than 95%) are from this post office only, and the remaining 5% are the late use of the post mark. The late use of any post mark can not be ruled out as it was done at the whim of Postal Clerks. We even find early India cancellations of the 19th Century on Independent India stamps.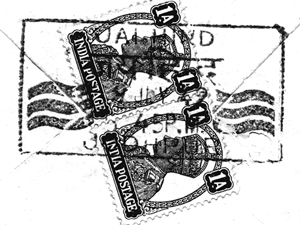 Another interesting finding is pointing towards a fact that this slogan was withdrawn from Girdikot (which was the second main P.O. of Jodhpur) in April 1949, but reappeared in June 1949 in a new format from Jodhpur P.O. the new format is in a rectangular box measuring 51mm x 26mm and also reads ?JAI HIND? in English and Hindi in two lines, with date, time and place in 3rd, 4th and 5th line respectively. The time and date are flanked with 3 wavy lines on each side. It was also used as a canceller. It remained in use until November 1955, according to my collection.
My collection of this post mark reveals that this slogan was used from the following Post offices.
Post office
Length (MM)
Height (MM)
Date of Cancellation
Ahmednagar
65?
12?
02.09.1947
Alibag
62?
12?
17.08.1947
Amritsar
65
12
?
Bara Bazar (Calcutta)
61
14?
23.08.1947
Bareily
62?
13
15.08.1947
Baroda
65
13
13.09.1947
Barrackpore
62
11?
?
Bhavnager
62?
13
15.08.1947
Bhopal
?
11?
04.09.1947
Bijapur
64
14?
?
Bijnor
63?
14?
25.11.1947
Bikaneer
62
13
?
Bombay GPO
67
14?
15.08.1947
Bulandshahr
63
13
09.09.1947
Calcutta GPO
63
13
15.08.1947
Chapra
?
3?
05.09.1947
Chikmagalur
64
14?
30.08.1947
Cooch Behar
64
13
05.02.1959
Delhi
65
14
?
Dhanbad
63
12
03.09.1947
Dharwar
65?
14?
24.08.1947
Etar (si)
?
15
21.08.1947
Fetehpur
64
13
17.09.1947
Gaya
63
12?
19.08.1947
Girdikot (Jodhpur)
63
13
22.10.1948
Girgaon (Bombay)
63
15
16.08.1947
Hissar
64
12
23.08.1948
Hoshiarpur
64
13
?
Hyderabad (Deccan)
64
12
15.08.1947
Jaunpur
64
13
03.09.1947
Jodhpur
64
14
28.08.1947
Kalbadevi (Bombay)
62
14?
06.09.1947
Kotah
62
14?
15.08.1947
Kumbakonam
63
11?
11.09.1947
Laharia Sarai
63?
12
02.09.1947
Madras GPO
62
14
15.08.1947
MujaffarNager
62
13?
17.09.1947
Neemuch
64
14
?
New Delhi
62?
12?
15.08.1947
New Delhi GHQ
66
13
15.08.1947
Nowgong (Assam)
64
12?
15.09.1947
Purnea
63?
13?
15.08.1947
Rajkot
63
12?
02.09.1947
Ranchi
63
13
04.09.1947
Sambhar Lake
62
14
26.08.1947
Sangrur
(Jind State)
63
14
20.08.1947
Saugor
64
12
?
Sholapur
63
13
21.08.1947
Simla
63
13
18.08.1947
Trivandrum
?
12
02.09.1947