TILAK STAMP 1956
By Rajesh Varma & Abhai Mishra, with inputs from Madhukar Jhingan
Scholar, patriot and fearless journalist, Lokmanya Bal Gangadhar Tilak (1856-1920) was a pioneer of India?s freedom struggle. He organized the ?Home Rule Movement? and gave the slogan ?Swaraj (political Independence) is my birth right and I shall have it?.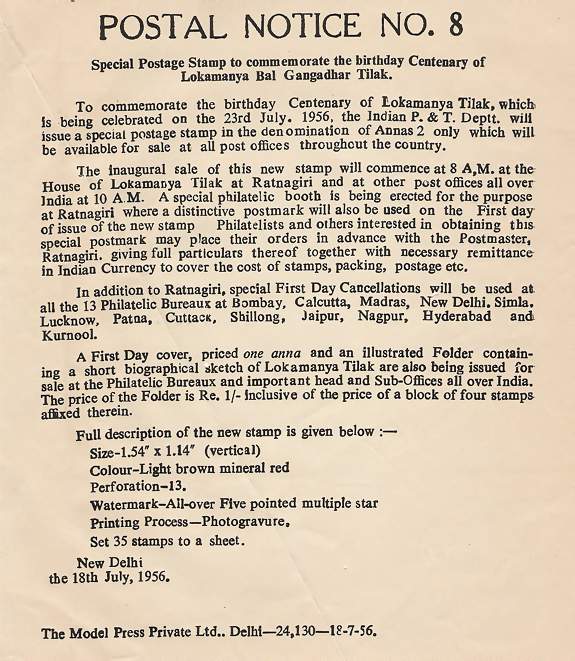 In honor of this great man, a stamp was issued on his birth centenary featuring his portrait on July 23, 1956 in the denomination of Annas two. This was the last stamp in the pre-decimal currency and the first issue where special first day of issue postmark was also provided at the birthplace in addition to philatelic bureaus.
The First Day Cover with the birthplace postmark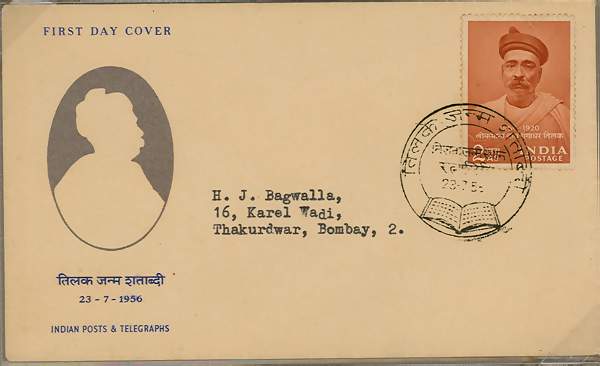 This was also perhaps the first issue that was released prematurely that is before the official date of issue and caused a parliamentary question. In this regard we quote from ?The Tribune?, August 11, 1956:
?New Delhi, Aug 10 ? The stamps commemorating Lokmanya Bal Gangadhar Tilak?s birth centenary had been issued before their official issue, admitted the Minister for Communications, Mr Jagjivan Ram in reply to a question asked by Mr H V Kamath. Replying to another question of Mr Kamath, who described it as a ?case of leakage?, the Minister said, ?from the reports so far received, it appears that it was purely accidental that the stamps happened to be issued before the prescribed date through some post offices in the interior. Suitable action will however, be taken to avoid recurrence of this nature. Stamps came before the date of issue from some post offices in Punjab?, Orissa and Madhya Pradesh, he added. ? U.P.I.?
Stamp used registered cover on July 20, 1956