150 YEARS OF INDIA POST
By Madhukar and Savita Jhingan

150 years of India Post celebrations were launched on October 4, 2004 by the President of India at a special function at New Delhi by the release 4 commemorative stamps and a miniature sheet. The Prime Minister of India released a set of 2 commemorative coins at the same function.

Fifty years ago this occasion was celebrated more befittingly as the India Postage Stamp Centenary. Apart from commemorative stamps and postal stationery a number of other philatelic products and publications were brought out on the occasion by India Post then.

While we have no word yet on the postal stationery on the 150 years of India Post, its logo has appeared on the front and back of a number of special covers, in the special postmarks, as well as on stamp booklets since October 1, 2004.
Kolkata Hyderabad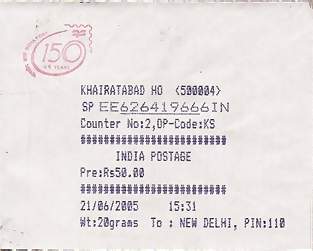 It is also reported on meter marks used from Kolkata as well as on Computer generated postage labels from Kolkata and Hyderabad.
We have seen it on Acknowledgement Card from Delhi. Mihir Dhandha contributes another example of this from Rajkot. Later also carries an advertisement and is the first Acknowledgement Card with advertisement that we know of.
Delhi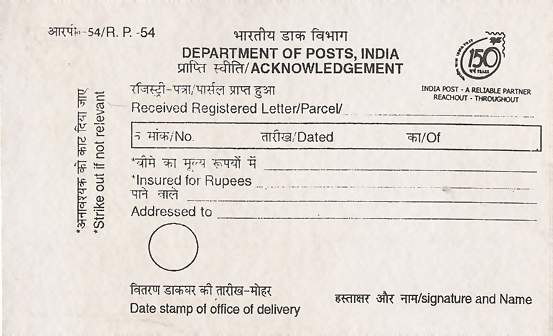 Rajkot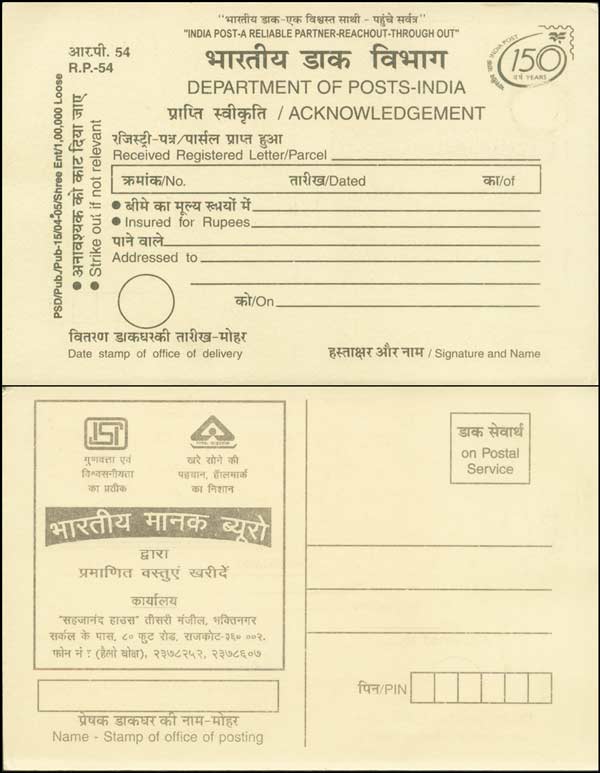 We expect it also to be reported soon on money-order forms.

Naturally the logo of 150 years of India Post is found on a number of ?postal service? envelopes.

The time to go for it is now and we look forward to reporting many interesting items. And while you are at it do not forget to pass on to us your duplicates!