The Two Sizes of President's Review of Fleet Stamps
Stamp from Vertical Row 1
Stamp from Vertical Row 3

Stamp from Vertical Row 2
Stamp from Vertical Row 4

Stamp from Vertical Row 1
Stamp from Vertical Row 3

Stamp from Vertical Row 2
Stamp from Vertical Row 4
Block from Vertical Row 1 & 2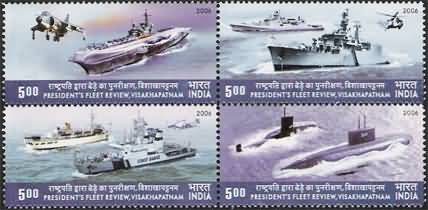 Block from Vertical Row 3 & 4
Complete Sheet with larger Vertical Rows 1 & 4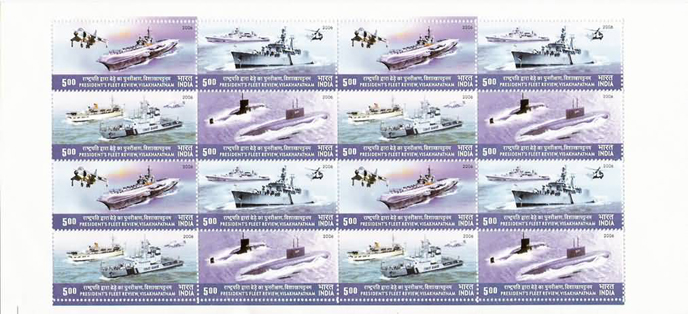 Complete Sheet with all stamps in same size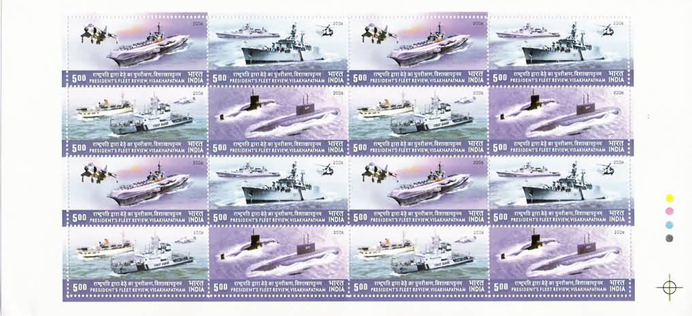 India Post released a set of four postage stamps to commemorate Presidentís Review of Fleet at Visakhapatnam on February 12, 2006 in the denomination of Rs 5 each. India Security Press printed the stamps in sheets of 16 stamps that is 4 se-tenant blocks by Photo Gravure in the quantity of 0.8 million blocks.

The stamps are printed 4 x 4 and the vertical row 1 and 4 are 54 mm in width while vertical row 2 and 3 are only 52.5 mm. As the stamps in vertical row 1 and 3 (also row 2 and 4) are identical this results in two size for all the four stamps. While overall block size remains same in all cases, the individual stamps differ in size with the horizontally adjacent block.

This is not an error or freak but is a major constant variety that merits a listing in catalogs.