Meghdoot Post Card
Pages: 01 02 03 04 05 06 07 08 09 10 11 12 13 14 15 16 17 18 19 20 21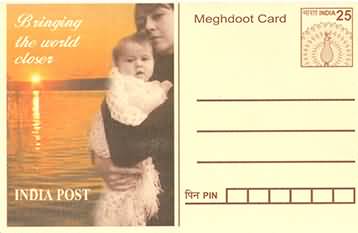 Given away as a sample to prospective clients, Not issued to public
An Introduction by Madhukar Jhingan
India Post introduced Meghdoot Post Card on September 2, 2002. Meghdoot is priced at 25 paise that is half the cost of the regular post card. The writing space available on the address side of the regular post card is made available for advertising in multicolor in case of Meghdoot. The rate of the advertisement is Rs.2 per card and the minimum order for print is 100,000 cards. Meghdoot is printed by Security Printing Press at Hyderabad in sheets of 8 cards, although some have been supplied to post offices by the press in sheets of 4, pairs of 2 cards, and singles.

Being a postal stationery article with an advertisement, its area of distribution is determined by the advertiser, as its design and text. In addition to the post offices in the area of its distribution the Meghdoot is also made available in limited quantity of 2000 cards at select 8 philatelic bureaus that handle postal stationery, namely Ahmedabad, Bangalore, Chennai, Delhi, Hyderabad, Kolkata, Lucknow, and Mumbai.

Meghdoot literally means the cloud-messenger and is title of a play in Sanskrit penned by Kalidasa a few millenniums earlier. Meghdoot is also the name of an award that India Post presents for meritorious services to its employees annually.

The printing of Meghdoot were decentralized to Circle level on October 15, 2003 enabling India Postís 23 postal circles to directly place their order on the press. However all other postal stationery articles with advertisements such as regular Post Card, Inland Letter Card, Aerogramme, and Envelopes continue to be printed by the order of the national Postal Directorate, New Delhi. The decentralization has added to the difficulties in procuring the necessary information on these cards even very basic data such as date of issue.

India Post is not very strict in adhering to the date of issue in case of postal stationery and items are printed and issued at times months and believe it or not years after the scheduled date of issue. The philatelic bureaus however stick to the scheduled date of release in listing and applying the first day issue of postmark on postal stationery. This situation creates items of postal stationery with postmark date that is earlier then it was actually printed. When we had begun in 2000 we made an attempt to list the actual dates when a postal stationery item was available but had to give it up and now follow official dates of issue to make life simple for everyone.
All dates till # 150 are based on the India Postís Print Order to the Press.
#150 onwards the Date of Issue is either ascertained by the date on the Packing Slip of the Press or from the date of receiving at the Philatelic Bureau.
Since 2009 all issues have NOT been supplied to philatelic bureaus
Acknowledgements: Manohatr Lal, Mihir B Dhandha, and Sagi Srinivas Raju

Thursday, April 30, 2020