AN INTERESTING ITEM
NEW DELHI INAUGURATION 1931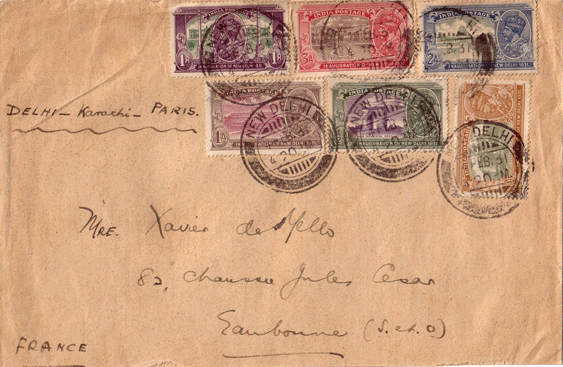 Contributed by Zahid Islam from Dammam, Saudi Arabia
with additional research by Madhukar Jhingan
The cover carries a complete set of 6 stamps issued on February 9, 1930 (exactly 74 years ago) to mark the inauguration of New Delhi. The cover is flown to Paris from New Delhi on via Karachi. It was posted on February 14, 1931 and has a Paris delivery hand-stamp of February 26, 1931. The cover although flown does not have the mandatory blue airmail label but does have the necessary superscription, 'Delhi – Karachi – Paris'.

This was the first flight; these newly issued stamps could catch. Indian State Air Service was scheduled to leave Delhi every Monday evening for Karachi. In the year 1931 the February 9, the day stamps were issued, was a Monday and it was obviously late for the day's flight. It was a norm for the post office to close the mail bags in the morning for the flight departing in the evening. Thus it was flown in the next available flight. The day of posting, February 14, was obviously a safe day to catch the flight of February 17, 1931. It was loaded on to Imperial airways flight of February 18, 1931 to arrive at Paris on February 26, 1931.

The capital of India was transferred to Delhi from Calcutta in December 1911 when King George V announced it during Durbar at Delhi. He also laid the foundation stone of New Delhi. The decision to transfer the capital was one of the most closely guarded secrets of the time. The British government specially wanted to keep this news from the Scotsmen who monopolized the jute trade in Bengal and were completely against any transfer of the capital. Earlier, Bengal had become a hotbed of freedom movement after Lord Curzon's decision in 1905 to partition it into East and West Bengal. The westernized class of Calcutta also did not take very kindly to this announcement and the great scholar, Nirad C Chaudhri (Autobiography of an Unknown Indian), writes how upset his father was on reading the news when he remarked: "They are going to the graveyard of empires to be buried."