AN INTERESTING ITEM
M S SUBBULAKSHMI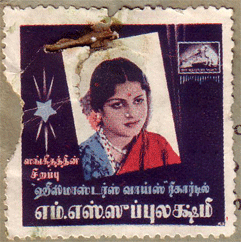 Contributed by Zahid Islam from Dammam, Saudi Arabia.
Islam had aquired this very attractive cover from a collector in Chicago, USA who was selling part of his collection in a club auction in 1992. It is a registered VP envelope from the Gramaphone Company Limited of Dum Dum (Calcutta) with a multi-colored label of the singer M S Subbulakshmi, dated May 6, 1940.
Click here to see the whole cover

Madurai Shanmukhavadivu Subbulakshmi (popularly known as M S or M SS) (September 16, 1916 - December 11, 2004) was a renowned Carnatic vocalist. M S started learning Carnatic music from a very early age and cut her first disc at the age of 10. At 17, the child prodigy made her debut at the Madras Music Academy. Since then, she performed countless musical forms in different languages such as Hindi, Bengali, Gujarati, Tamil, Malayalam, Telugu, Sanskrit and Kannada. M S also became famous as a film actress. Her most memorable role was Bhaktha Meera in Meera (1945). Following the success of the film she quit films and turned wholly to concert music.

M S traveled to London, New York, Canada, the Far East, and other places as India's cultural ambassador and performed at concerts at Carnegie Hall, New York; the UN General Assembly on UN day in 1966; the Royal Albert Hall, London in 1982; and at the Festival of India in Moscow in 1987.

She was widely honored, praised and awarded. Some of them more popular ones include Padma Bhushan in 1954, Sangeetha Kalanidhi in 1968 (literally, Treasure Chest of Music. She was the first woman recipient of the title), Ramon Magsaysay award in 1974, the Padma Vibhushan in 1975, the Kalidasa Samman in 1988, the Indira Gandhi Award for National Integration in 1990, and the highest civilian award - Bharat Ratna in 1998. She was also honored as the court-singer of Tirumala Tirupati Devasthanams.