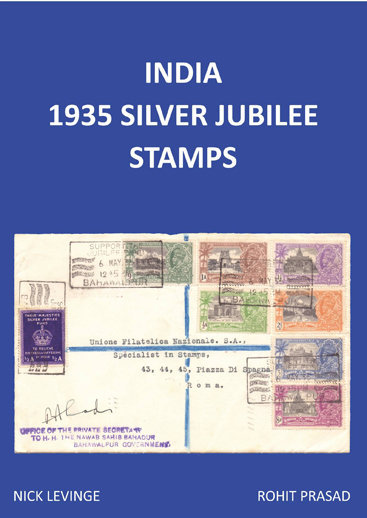 India Silver Jubilee Stamps
by Nick Levinge and
Rohit Prasad
288 Pages, A4 all color

Art paper, Hardbound
Limited edition of 500 copies

Rs 5,000 post-paid in India, and
USD 100 post-paid worldwide

Send your orders to
Email: mj@stampsofindia.com
Voice Calls: +91-9811160965
WhatsApp: +91-9350537037
Contents

Chapter 1 deals with the history of the issue using information from the India Office archives and the Indian National Archives. The chapter is illustrated with scans of proof material from the Royal Collection, and the only proofs to have come onto the market. There are pictures of three different presentation cards that have come to light.

Chapter 2 is very short and describes the printing process of offset litho stamps. It is necessary to have some understanding of the process to see how varieties can be caused.

Chapter 3 shows 61 varieties resulting from extensive research. Seven varieties have been found across the values on the frame part of the design, mostly on all seven values. In addition varieties are shown on the individual value frame and vignette design.

Chapter 4 describes the buildings featured on the stamps and the basic use each stamp was created for.

Chapter 5 shows a range of First day Covers.

Chapter 6 is the longest and shows the postal usage of the stamps according to services available, rates routes and postmarks. It is something of a snapshot of 1935 Indian postal history.

Chapter 7 shows how the stamps could be used abroad.

Chapter 8 discusses the phenomenon of underpaid covers resulting in postage demands.

Chapter 9 sets out the details of the Silver Jubilee Fund which collected a vast sum of money for charitable work in India. The emphasis is on the special postmarks and charity seals used on Silver Jubilee covers.

Chapter 10 covers perfins, first flights, combination with States stamps, late use, postal orders and the Bahawalpur Cinderella sheet.

Chapter 11 shows Stephen Smith's Indian Rocket mail connected with the Silver Jubilee – the Jubilee flight in March 1935, the first Sikkim series in April and the four firings in June with covers franked with Silver Jubilee stamps. Some rare and unique items are illustrated.