Catalogue of Errors on Stamps of Modern India
by Mrinal Kanti Ray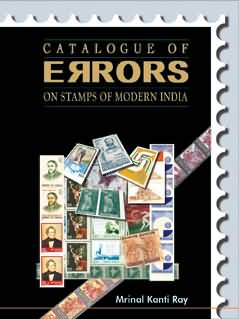 With over 500 entries and illustrations in colour this book provides most relevant and authentic information on all error stamps and gives answers to the most frequently asked queries of the collectors in this field. It will not only help guide beginners in furtherance of their hobby and give out a happy hunting-ground for the topical collectors; but will also make the job of expert philatelists easier by presenting them a handy and useful reference work.

At present collection of errors on postage stamps is one of the most popular branches of philately with a consistently growing number of collectors. But until now the collectors of errors on Indian stamps have no reference work to consult with. Most of them are left in a quandary – knowing not what to look for, what to purchase and at what price. To fill the vacuum this specialized Catalogue of Errors on Stamps of Modern India lists and prices imperforates and colour omitted errors on stamps issued since independence in a chronological order. It also encompasses all other types of errors and varieties under a detailed Guide to Other Errors and Varieties, succinctly narrating each variety with lavish illustration.
Regional Distributors-cum-Sellers

State or Union Territory

Distributor-cum-Seller

City

Contact No.

Uttar Pradesh, Uttarakhand, Haryana, Himachal Pradesh , Jammu & K

ashmir

Mr R.K.Gupta

Meerut

9897142640

Delhi

Mr Rajesh Agarwal

New Delhi

9810226692

Bihar, Jharkhand & Chhattishgarh

Mr Pradip Jain

Patna

9334132162

Andhra Pradesh

Mr Devendra Kr Jain

Hyderabad

04065350821

Karnataka

Mr R. S. Gupta

Bangalore

9342543171

Tamil Nadu & Pondicherry

Mr L.R. Rajagopal

Coimbatore

9442341222

West Bengal, Sikkim & Orissa

Mr Pintu Ghosh & Mr Moti Jain

Kolkata

9331956644,

9748841337

Punjab & Chandigarh

Mr H. P. Singh

Amritsar

9417329500

Kerala

Mr Atish Jain

Kottayam

9447756118

Gujarat

Mr Markand Dave

Nadiad

9825043966

Madhya Pradesh

Mr Dhirendra Singh Chouhan

Sidhi

9827835800

Maharashtra & Goa

Mr Duleep Shahani

Mumbai

9833657788

North-East States

Mr Binod Kr Jain

Guwahati

9435010830

Rajasthan

Mittal Stamp Co

Jaipur

7820955333

Online Sellers:
www.stampsofindia.com


Special Offer:

Rs 600 / USD 25 Postpaid In India / worldwide orders@stampsofindia.com
www.stampexindia.com
www.phila-art.com
Publisher: PhilaStar Publications (K M Singh)